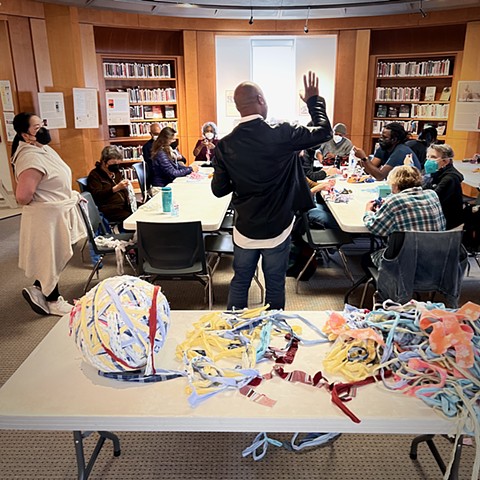 IMAGE: Crochet Jam, African American Center, San Francisco Main Public Library, 2022
Crochet Jams engage the public to think differently about the role of art within community and the power of art within society. Crochet Jam—a public, art-making event that's embracing and inclusive, with no attempt made to dictate the creative process nor judge the finished project—is meditative, liberating, and empowering.*
Ramekon O'Arwisters started Crochet Jam in 2012. My community-art event is rooted in a cherished childhood memory that's steeped in the African-American tradition of weaving in a calm and non-judgmental environment without rules or limitations.
Description:
Crochet Jam, hosted by sculptor Ramekon O'Arwisters, uses the folk-art tradition of crocheting strips of fabric into free-form and organic soft sculptures to foster social interaction, creativity, and liberation. There aren't any rules nor patterns. Crochet Jam is an opportunity for play, experimentation, and for allowing the material to transform naturally without any expectations nor any attempt to control the outcome. Participants become a conduit for the transformation of the material without any resistance, whether they like what they see or not. Participants just crochet and calmly observe without judgment or critique.
No attempt is made to dictate the creative process and there is no focus on the finished product. Basic instruction in crochet 🧶 provided in-person or virtually during the event.
Ramekon was an artist-in-residence at the de Young Museum, the Djerassi Resident Artists Program, and the Vermont Studio Center. Grants and Awards include Artadia: The Fund for Art and Dialogue, NY, the San Francisco Foundation and the San Francisco Arts Commission Cultural Equity Program. He received the 2014 Eureka Fellow, awarded by the Fleishhacker Foundation in San Francisco and a Pollack-Krasner Foundation Grant in 2021. His work has been featured in the LA Times, San Francisco Chronicle, 7×7 Magazine, Artnet, the San Francisco Examiner, and Brian Boucher's Daily Dispatch.
UPCOMING ARTIST TALK
Artist Talk, EAP presents Ramekon O'Arwisters in conversation with George McCalman at MoAD
UPCOMING CROCHET JAM:
Museum of African Diaspora (MoAD),11 June, 1pm–3pm
Treat Plaza, Harrison & 16th, SF, 20 May,17 June, 22 July
RECENT AWARDS:
de Young Museum Acquires 42 New Works by Bay Area Artists
Headlands Center for the Arts, Artist-in-Residence, June–July 2021
SFMOMA announces 2019 finalists for prestigious SECA Award
Kala Art Institute's Print Public AIR 2016–17
Counter Pulse Art Activator Public 2016-17
Recology™ Artist-in-Residence Program 2016–17
Eureka Fellowship, Fleishhacker Foundation 2014
PRESS:
Brian Boucher's Daily Dispatch
Artillery Magazine
Sculpture Magazine
Squarecylider.com, San Francisco
WUSA News 9, Washington DC
Full Service Radio, Philadelphia, PA
SF Gate
Los Angeles Times
Art Practical
SFMOMA's Open Space
7x7
Art Practical
Carolina Alumni Review
ArtNet News
The Kansas City Star
Art 21 Magazine
Bay Area Reporter
KALW, 91.7